About Us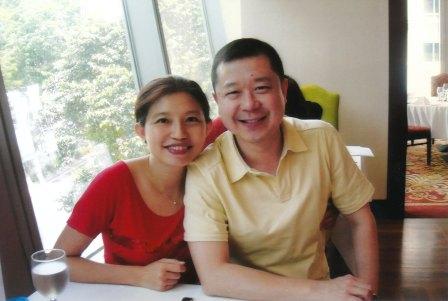 Hi, I am Eu Ching and that is my husband, Don and this is a brief introduction about us. We are the people behind MomsWisdom.net, a parenting resource for a first time mom.
I am the proud mother of 3 kids, 2 girls and a boy. Here they are, Linn, Shen and Sun :
I started www.MomsWisdom.net as my way of paying it forward. If you have read Em's story on my home page, you would know that she has been invaluable in teaching me how to best raise successful kids. Hers is an inspiring and encouraging story (Em has even been interviewed by Lee Kuan Yew, Singapore's former Prime Minister who wanted to talk to parents of successful kids to learn their secrets), it really showed me what you could accomplish if you put your mind to it. Em has been most generous and helped me so much, mentoring, teaching and taking care of my kids especially when I needed a break just to fix my hair (Oops, white hair showing!). She told me that she was a strong horse and I could depend on her, but in turn, I should help other people if I could.
That got me to thinking about building this website and I am so glad that I did. Besides my kids and my husband whom I love to death, my one other consuming passion is this website. I bounce out of bed every morning, looking forward to adding another page to it. Nothing would make me happier than if I could help or inform any mothers out there who are struggling with the thorny issues of child-rearing.
I graduated with an Economics degree majoring in Accounting from Monash University. I am CPA trained and used to help run my family business (a boring transportation company) until I became pregnant with my 3rd child. Though I had the flexibility of working when I wanted to, I decided to devote myself to my family completely. My son, now 18 months old has just started daycare, so it has freed up some time for me to work on MomsWisdom.net.
When was the last time you did something beneficial for society? I hope so fervently that I can do that with this website, in my small little way. I worry for all the dysfunctional children out there. It is so easy to have kids, but not so easy to raise them well. We can't do a perfect job (I tried!), but we sure can put in a heck of an effort or die trying.
What a journey it has been! I I can't believe that at the grand old age of 41 years old, I am finally doing something that I really want to do, that has so much meaning to me and might even help people (Bonus!). It is a great way for a mom to work at home. I am continuously learning too, can you believe I built this website without any prior website building experience? I was lucky enough to find the best website building company in the world (I am not kidding!). Site Build It! provided all the web building tools, video and written instructions, forums, tips and much more to build this site all on my own. The task of building a website from scratch was daunting enough. Click here if you would like to know how I built this website.
I do the writing and planning for the website (actually really my 4th child), while my husband helps with ideas for the web pages and is my medical advisor. Don is a doctor and he runs two clinics. One is a General practice, Thean Clinic and the other is Nihon Premium Clinic, a Japanese clinic serving the Japanese community in Singapore. He works every day except public holidays, so we really treasure our holidays.
My kids, the loves of my life are Shen, Linn and Sun. I feel so grateful that I have been fortunate to be given not one, not two, but three angels. Who could be so lucky?
Finally, the proof is in the pudding, isn't it? These are pictures of my daughters Shen, who was 1st in her class last year and Linn, who won a silver medal in the Brain Excellence award for Shichida. I don't mean to boast, but I am proud of their accomplishments. I really did not expect them to win any prizes. There is still much more to do, they are only at the beginning of the journey to adulthood.
I have been putting my head down and working hard for my kids. I also demand that my kids put in their utmost effort to achieve their best. I just want mothers reading this to know that you make a profound difference in your children's lives. Don't waste the chance to make a positive change in the world by leaving a legacy worth remembering. Especially for younger kids, you are scratching your head and wondering if anything you taught them has gone into their heads. Well, it's in there somewhere, as long as we put in the effort to teach them the knowledge and life skills. It will come out later and surprise us when we least expect it. Read 'The Daffodil Principle' for some inspiration and encouragement when you feel just tired to the bone.
Learn from all the great parents around you. I love sitting next to old folks at weddings, I ask them what their kids are doing. If their kids are successful, they are just bursting with pride and wouldn't hesitate to tell you how they did it. I have learnt enormously from so many other mothers, I am eternally grateful to them.
Everyone's parenting styles are different, so take the parenting advice that suits you and your family, the rest can be put aside. I also make it a point to learn from parents whose kids are doing badly. Now you also know what NOT to do. I am sure everyone wishes their own parents could have done something better for them while they were growing up. It was the same for my own parents, but to put a positive spin on things, I have taken the best of my parents and the rest, I choose to forget about it. My mother is the most hard working person I know. She used to work everyday from 8am to 6pm except for 2 days in a year - Chinese New Year. She would bring back work to do. She had barely any time for us kids, but you know, we were happy in a way growing up, doing our own thing.
The mother child relationship is the foundation of a balanced and enriching life, so work hard with your kids, but don't forget to play hard too!
Eu Ching & Don
June 2012

From About Us to Pregnancy Guide
From About Us to Baby Care Tips
From About Us to Kids Play
From About Us to Primary School
From About Us to Moms Wisdom Sitemap
From About Us to MomsWisdom Blog
From About Us to MomsWisdom.net Home page

Sep 25, 23 05:13 AM

What is the Best Way to Teach Kids How to Read?

Sep 25, 23 05:11 AM

This excellent article by the Swimming Director of Singapore Swimming Club explains the Benefits of Competitive Sports, in particular swimming.

Sep 25, 23 04:40 AM

The Breakfast Recipe of Apple & Cinnamon High Protein Muffins is a muscle-building, post-workout nutritious meal idea. Learn the pros & cons of Fat vs Wt loss.
MomsWisdom, a Complete guide for Pre pregnancy preparation, Pregnancy care and New mom guide for Childhood
Gives honest parenting advice to mothers on how with the right mindset and preparation, you can raise happy, healthy, well-adjusted children who outperform others academically.