How to Raise Money Smart Kids
How to Raise Money Smart Kids teaches how we can financially empower our children and show them ways to save for their own future.
Before we begin, watch this hilarious Ted talk by motivational coach, Jaochim de Posada on how Delayed Gratification can predict future success using the Marshmallow test.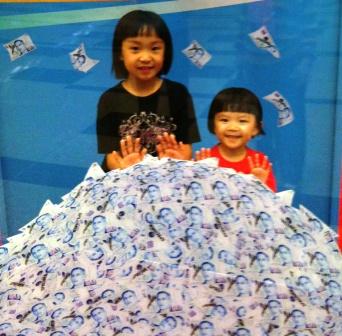 Wants vs Needs
In our consumer-driven society now, children have to be taught how to differentiate between their needs and wants. It is so easy to go out and buy whatever your child wants or demands at that moment, but what are we teaching them? Some kids think that money actually miraculously comes out of ATM machines, everything is 'cheap' because mommy has lots of money or "I really NEED that doll/game/toy or I am going to die without it."
Children are more likely to do what you do, than do what you say. So if parents are spending money indiscriminently, don't be surprised when junior does the same in future.
Wealth is what you save, not what you spend. Read the book 'The Millionaire Mind' by Thomas J Stanley, most millionaires save more of what they earn than the typical big spender you come across, whom the author calls 'Big Hat, No Cattle'.
Just simple questions to your child, "Do you really need that? If you don't have it, what would happen?" is enough to drive home the principle that they have to go through their minds and assess if they can do without this thing that they desire right now.
Moms Wisdom's most basic lesson is just that : Delayed Gratification can predict future success. If only we, the parents can put aside our own discomfort and work hard now for our children and teach them to do likewise. We will be able to reap the fruits from the seeds we have sown over the years when our children become successful adults.
We are not talking about teaching your child to be Warren Buffet (though wouldn't it be great if we could). We can train our kids to be more aware of money and other financial concepts. We should be teaching children about the concepts of accounting, saving money tips and child investing in the course of our daily routine, when the opportunity arises.
Teach your child how to be an Entrepreneur
Don't we all want to teach our children that money doesn't fall out of trees, now is your chance! We can create opportunities for them to earn. Teach them millionaire habits and encourage them to follow their passion.
It is as simple as just teaching your kids what you yourself do in the course of your work or teaching them some new skill that you are learning. They may not understand everything straight away, but with reinforcement, they will be able to get some of what you are sending their way.
Watch this Ted talk by Cameron Herold, an entrepreneur since childhood.
---
---
---
Return from Money Smart Kids to Good Parenting
Return from Money Smart Kids to Fathers for Life
Return to Moms Wisdom Sitemap
Return to MomsWisdom.net Home page
Jun 05, 23 05:14 AM

Signs of Labor lists the Pre-labor symptoms and the signals that your labor and delivery are imminent. Get ready for the time of your life!

Jun 05, 23 05:11 AM

Here are some tips on Raising a Happy Child by providing the necessary Love, Security, Discipline, Honesty and Play.

Jun 05, 23 05:10 AM

Premature Babies arrive before completing 37 weeks of pregnancy. This guide lists the causes and effects of preterm birth.
MomsWisdom, a Complete guide for Pre pregnancy preparation, Pregnancy care and New mom guide for Childhood
Gives honest parenting advice to mothers on how with the right mindset and preparation, you can raise happy, healthy, well-adjusted children who outperform others academically.