Kids' Holiday Camps & Programmes 2016

Kids' Holiday Camps & Programmes are a great way to occupy children during the June and December holidays. Learn Team-building or new hobbies, even interesting subjects such as Space camps and Robotics are available.
Altan Education
Want your child to learn financial prudence? Altan education is doing a one day workshop for 7-12 year olds which is a quick overview on ABCs of wealth. This 3 hour long workshop will surely teach them about budget, saving money, accounting and hopefully will show them the first steps towards financially independence and prudence.
Dates: 26th Nov (10am-1pm)
Price: $180, Minor Inc. Promotional price: $150

Between Two Trees
Between Two Trees will offer four full weeks of unique and innovative holiday camps in English and Chinese for little ones (4-5 year olds). You can enrol your child for Farmers Week, Authors Week, Illustrators Week, and Artists Week. Choose to send your child for a week of gardening fun, or immerse in activities focusing on the creative works of well-loved artists, authors and illustrators such as  Dr. Seuss, Eric Carle, Jackson Pollock and Georgia O'Keeffe.
Dates: 21-26 Nov (Farmers Week, English only); 28 Nov-3 Dec (Authors Week, English & Chinese); 5-10 Dec (Illustrators Week, English & Chinese); 12-17 Dec (Artists Week, English only)
 Price: $490/ per week or $ 80/day for Mon-Fri and $90 for Sat

Gymboree
Extremely popular playgym for kids under 5 is putting up an exclusive "Unlimited Class and Playgym" holiday program.
Dates: 19 Nov – 23 Dec
Price: $499

Programming/Coding
All of our coding partners are running some amazing workshops for the holidays. You can read more about those here

Montessori Place of Learning
Perfect for little ones (2-7 year old) they are offering bilingual (English and Mandarin) holiday camp, which is packed with fun filled activities. Children learn Mandarin through play and songs. They can work on their Mandarin skills with the help of the teacher during the "Show and Tell" session. The program is designed to be fun, interactive and educational. Children will be engaged in a variety of hands-on Montessori activities. There will be art and craft activities, stories and music & movement, fun experiments. The holiday camps are highly enjoyable and very reasonably priced.
Dates: Mon-Fri; 14 Nov to 16 Dec (9am-12noon and 1-4 pm)
Price: $220 for 1 week, $415 for 2 weeks, $595 for 3 weeks, $750 for 4 weeks, $900 for 5 weeks 

Taylors Art Studio
Located in Upper Thomson, Taylors Art studio is a cosy place with an in-house cafe where parents can relax over a cuppa while the children are having fun learning. They are running a science camp for 4-6 year olds this Nov and Dec. Expose your child to various aspects of science as they embark on an exciting journey through the Land of Fairy Tale Emergencies! Their unique curriculum combines stories and role play with exploratory hands-on-experiments. They are also running Speech and Drama camps in Mandarin and English. These camps are suitable for 4-6 year olds. With super interesting themes your children are sure to have a blast.
Dates:  
Science Camp: 28 Nov-1 Déc,  5-8 Dec, 19-22 Dec
English and Mandarin Speech and Drama: 21-23 Nov and 28-30 Nov
Price:  
Science Camp: $420 (Early bird price $295 ends 13 Nov), Group discount: Additional $30 discount for group sign ups of 3 or more.
Speech and Drama: $250 (Early bird price $220 ends 13 Nov)
 
Camp Challenge
This 3D2N adventure holiday camp is suitable for 9-12 year olds. There will be multiple outdoor adventure activities such as trekking, archery, outdoor cooking, tent pitching, raft building and challenge ropes course. Through these activities, kids will learn how to better relate with others, collaborate effectively in teams, gain a better appreciation of the outdoor and pick up some useful life skills as well. They are also offering 2-day workshops on sailing for your teenagers. Contact Minor Inc. for dates 
Dates:
Adventure Holiday Camp: 1- 3 Dec
Price:
Adventure Holiday Camp: $450 ($50 discount on Minor Inc. App)
Sailing Camp: $360- $400
 
Ground Up Climbing Academy
Ground up team has put together a three-day rock climbing camp filled with non-stop adrenaline-pumping and climbing fun that your kids will surely enjoy. Your child can expect nothing less than loads of top-rope climbing, bouldering and fun-filled climbing games.
Dates: 19-21 Dec, 26-28 Dec
Price: $300
 
Inlinex
A fun filled 5-day introduction skate camp for kids 5+ to learn and explore the fundamentals of inline skating. They provide you with skates and gears.
Dates: 21-25 Nov, 28 Nov- 2 Dec, 5-9 Dec, 12-16 Dec (10-1130 am, 2-330 pm, 6-730 pm)
Price: $120/ week 

Innervate Cross Fit
Innervate Empowers is a unique workshop and class where they will teach the students basic and advanced movements to develop kinaesthetic awareness. This includes the basics of gymnastics and overall improvement in stamina, cardiovascular endurance and more which will help develop them in their sport.
Dates: 1 Nov-30 Dec
Time:
Weekdays: Kids 4-5 pm, Teens 5-6 pm
Weekends: Kids 930-1030 am, Teens 1130 am-1230 pm
Price: $300 ($30 discount on the Minor Inc. App) for 24 sessions over 2 months
 
Modern Fencing
Looking for your child to get more out of the winter holidays? The fencing winter 5-day camp offered by Modern Fencing Academy is an incredible opportunity for your child to have tremendous amounts of fun while learning skills that will last them a lifetime. 
Dates:  28 Nov-2 Dec, 5-9 Dec, 12-16 Dec, 19-23 Dec
Time: Mon-Fri 9:00-12:00
Price: $350 (Early bird: $300)

Martial House
A 3-day introductory course for participants to learn about and have hands-on experience with Wushu! Besides the basic stances and forms, participants will also learn about martial morality and utilise weapons of the Chinese martial arts. Good way to decide if you would like your child to take it up.
Dates: 7-9 Dec
Time: 10 am - 12 noon (4 - 6 years), 2-4 pm (7-12 years)
 
Sport4kids
This December children will get to try out a wide variety of activities including soccer, baseball, rugby, yoga, and much more! Children will also be swimming daily. All camps take place come rain or shine. We will be indoors in the event of haze, thunder or lightning. Swimming will be the only activity postponed if there is thunder and lightning. Camps are run by fully trained staff and we have a low child: instructor ratio at all times. Qualified first aid will be on hand at all times.
Dates:19-23 Dec
Time: 9am -2pm
Price: $495 for 5 days or  $120 per day

Sportball
Learn new sports skills, stay active, and play team games. Using our unique Sportball methodology, children will learn to play in a fun and interactive manner. For the first time this year, they will also be introducing Sportball Chinese. The entire class will be conducted in Chinese, thus giving your child the double benefits of learning sports and Chinese at the very same time. Different sports will be played on different days and you can choose the days you want depending on your schedule.
Dates: 1-23 Dec (English), 28 Nov-16 Dec (Chinese)
Time: 9 am- 12 pm
Price: $70 per day (3 days $175 thereafter $55 per day)
Early bird discount (before 28 Nov): 3 days $165 thereafter $53 per day
 
The Rock School
This popular rock climbing school is inviting all 7-14 year olds for an overnight camp! Have lots of fun activities like climbing challenges, swimming pool games, movie screening, arts and crafts and a trip to East Coast Park. Discover your own superpowers in this superhero themed camp, make new friends and have fun saving the world at the same time!
Dates: 21-22 Nov
Price: $150 (15% discount through Minor Inc. App)
 
Z Fencing
Founded in 1993 by an Olympian and three of the best national fencers of Singapore, Z Fencing established the first private fencing academy in the country. Since then, Z Fencing has been widely credited with playing a major role in growing the sport and its excellence pathway in Singapore. Today, Z Fencing is growing internationally as a brand known for bringing together excellence in fencing with character development for the young. Join the popular Z Fencing for either a 1-day appreciation workshop or a 3-day experience workshop. All participants from the 3-day workshop get a certificate of participation. 
Dates:
1 Day Workshop: 20 Nov, 9 Dec
3 Day Workshop: 19-21 Nov, 21-23 Nov, 8-10 Dec, 12-14 Dec
Price: $85/1 day, $185/2 days, $250/3 days
Artistic Strategies
Learn to to imagine and create alternative worlds and universes where anything and everything is possible! The children will get to travel to splendidly mystical worlds, adopt the roles of courageous and adventurous characters and spin magical, charming tales of their own. Children can even vicariously "travel" to countries of their choice. They will be creating souvenirs and cultural food (with clay) and designing postcards and writing about their exciting travel experiences. The workshops sound great fun for our little writers!
Dates: 22-23 Nov; 29-30 Nov; 6-7 Dec
Price: $120 for 2 day workshop, 10% discount for 2 or more children

Culinary On
Don't all kids love to cook and bake! Cooking teaches children many things- measurements, science, patience and of course a very important life skill. Keeping this in mind Culinary On tries to bring fun workshops for children where they make things from scratch. Fun cooking diplomas, face painting and goodie bags is just an added bonus.
Dates: 28-30 of Nov (10am- 3pm)
Price:
$300 for the 3 days camp
$118 for 28 Nov class

Flora Clay
Clay modelling is considered really great for developing the fine-motor skills, not to mention the endless amount of fun! Flora Clay is bringing 2 workshops where the children can choose to either make a Clay Card or Clay magnet animals. Get your children to proudly display their work of art.
Dates: Every Wednesday from 12.30-2pm 14 Dec
Price: $38 for 1 and $70 for 2 workshops
 
Madd Space
Perfect for children who love to dance and perform. From Hip hop to Jazz, Musical Theatre to Beatbox this camp has it all. You have options to enrol for the full 5 day camp or single day or a particular class. All participants will get to perform in a Mini Showcase
Dates: 21-25 Nov (10 am-6 pm)
Price: $268 (camp pass), $78 (day pass), $38 (class pass)

Utter Studio
This winter get your children crafty. They can either do 1.5 hour long art jamming session or join 3-hour long workshop where they make beautiful Christmas Lighted Chimney or Glowing Canvas Wall Light or a bedside Enchanted Forest night light from scratch. Hmmm... now I wish I was 5!
Dates: Various workshop dates between  21 Nov- 21 Dec
Price:
Workshops for $80
Art Jam Sessions for $25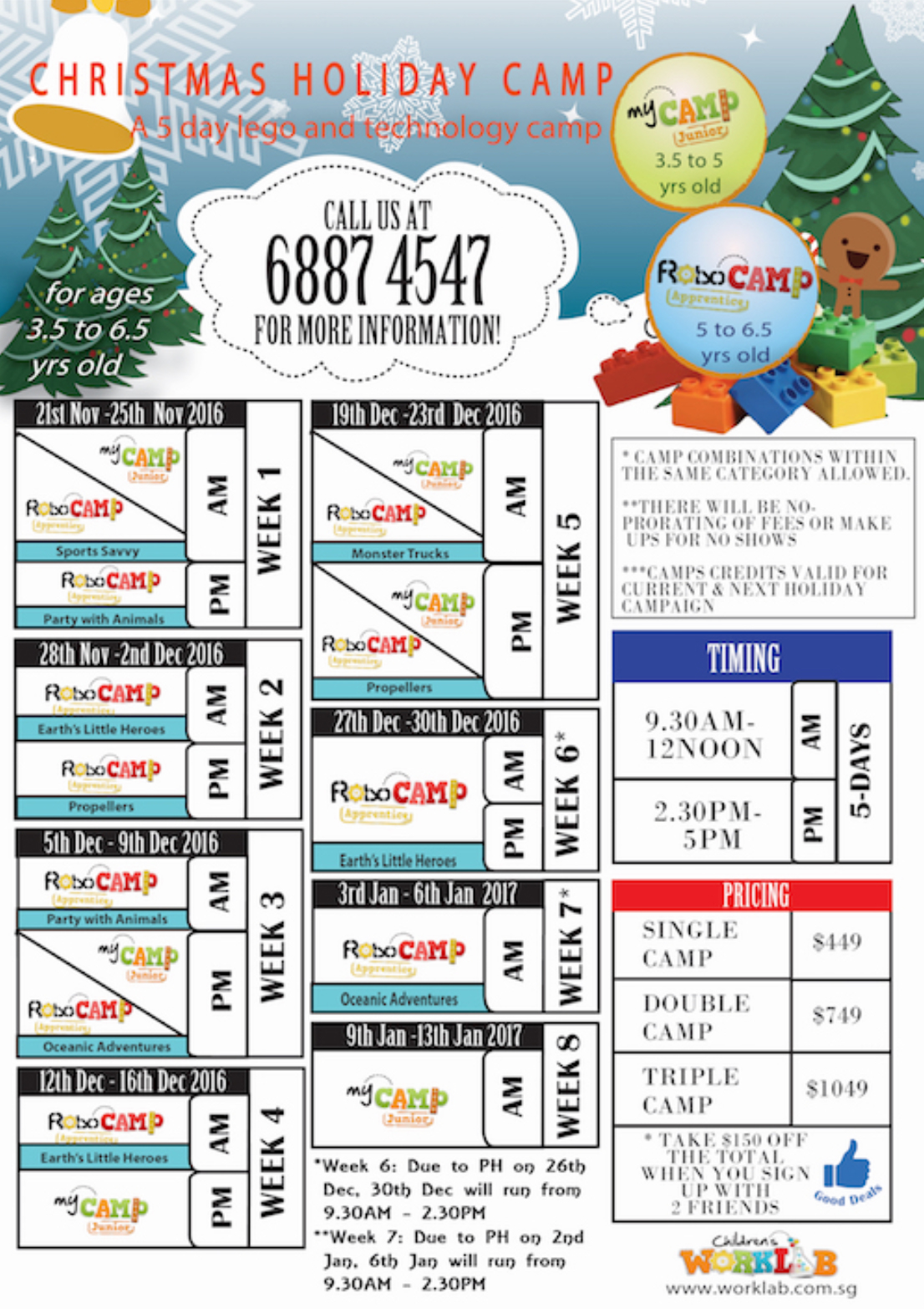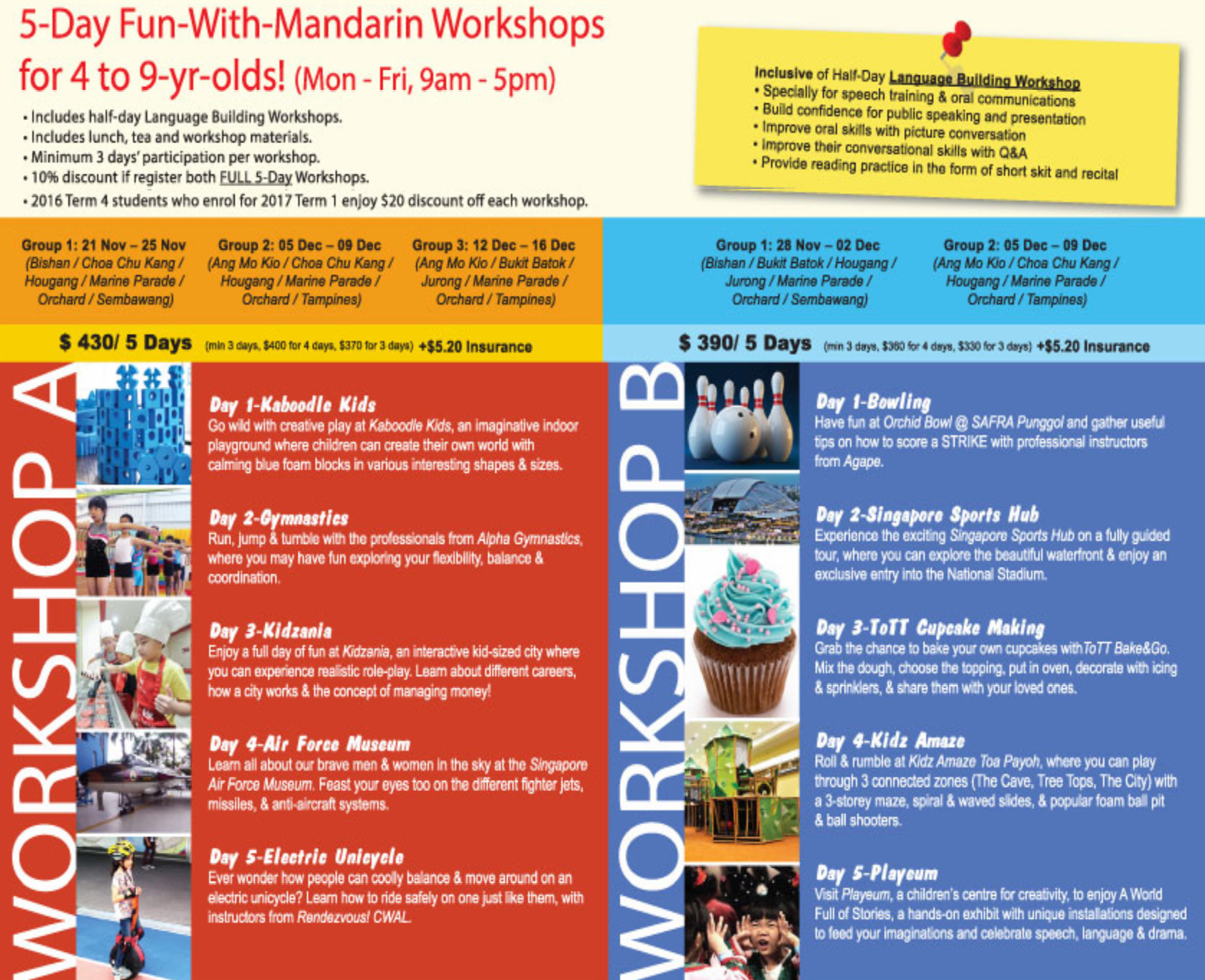 ---
Stock up on all the essentials needed for your motherhood maternity needs and new baby at Mother & Baby Fairs which happen every month or so. You can also find lots of educational materials located all in one venue for convenience.
There is always a Book Fair going on somewhere in Singapore. Get books at steep discounts and there are sometimes even activities available to entertain the kids at the big fairs.
---
Return from Kids' Holiday Camps & Programmes to Kids Play
Return from Kids' Holiday Camps & Programmes to Show Time! for Kids
Return from Kids' Holiday Camps & Programmes to MomsWisdom.net Home page
Sep 25, 23 05:13 AM

What is the Best Way to Teach Kids How to Read?

Sep 25, 23 05:11 AM

This excellent article by the Swimming Director of Singapore Swimming Club explains the Benefits of Competitive Sports, in particular swimming.

Sep 25, 23 04:40 AM

The Breakfast Recipe of Apple & Cinnamon High Protein Muffins is a muscle-building, post-workout nutritious meal idea. Learn the pros & cons of Fat vs Wt loss.
MomsWisdom, a Complete guide for Pre pregnancy preparation, Pregnancy care and New mom guide for Childhood
Gives honest parenting advice to mothers on how with the right mindset and preparation, you can raise happy, healthy, well-adjusted children who outperform others academically.