Trying to Conceive Tips

Pregnancy Preparation
You should plan and prepare for your pregnancies when you are trying to conceive. This Pre pregnancy Guide teaches you how to best prep your body for its most important task of getting pregnant and carrying a healthy baby to full term and tips for getting pregnant. Provide your baby with the best start possible.
What does Pregnancy Preparation involve?
Most pregnancy websites provide only information for after you get pregnant. But I feel that the most critical period is the 6 months prior to getting pregnant. You should be preparing your body to have a fit pregnancy by getting stronger through exercise and eating a healthy diet rich in iron to increase your body's iron store. You are going to need it!
You have no idea how much blood a woman loses at childbirth. My husband recorded my second child's birth and I was horrified at the river of blood flowing out of me after the placenta detached. Everything I suggest below was what I did for all my pregnancies. I didn't want to have any problems during pregnancy just because I was lazy and didn't do what was necessary.
I strongly recommend reading the book, 'The Prenatal Prescription' by Christopher Vaughan and Peter Nathanielsz. This book really drives home the point that we can help to reduce the probability of your child getting diseases that your family genes have a predisposition for. It will strengthen your resolve to take better care of yourself before and during your pregnancy.
Here's a video from Ted.com by Tyrone Hayes and Penelope Jagessar Chaffer - The Toxic Baby
Here are a few things you should remember on how to get pregnant with the proper preparation :
Planning your Pregnancies & Birth Spacing
I know Singapore needs as many babies as Singaporean women can produce, but please try and plan your pregnancies. Have a happy accident by getting pregnant while you are fit. Research has shown that birth spacing between 3 to 5 years is best in terms of outcome. A healthy pregnancy diet including optimal amounts of nutrients like Iron and Calcium as well as LCPuFAs (Long Chain Poly-unsaturated Fatty Acids) required for your baby's brain and physical development, results in better health for both mother and child.
Eat Healthy & Pre pregnancy Exercises
Eat healthy and exercise regularly at least 6 months before you get pregnant. The baby is not just getting its nutrients from the food you are eating while you are pregnant, it is taking its nutrients from your body, for example calcium that it needs from your bones. Prepregnancy, consume lots of high iron food as well as fish which are high in Omega 3,6 & 9. DHA in fish oils has been shown to lessen the severity of learning disabilities such as ADHD (Attention Deficit and Hyper-activity Disorder) as well as autism.
Planning for your pregnancies ensures that you are at the peak of your health when you get pregnant. Exercise regularly prepregnancy while you can so you are strong and lean in preparation for your pregnancy. Pregnancy is really hard on a woman's body, your body is never quite the same again, pre and post pregnancy.
Exercise before Pregnancy
Whatever is your favoured sport, just do it. I love to run, so I ran about 4 to 5 km, 3 times a week before my pregnancies. Because it was already a regular routine, I continued to run after getting pregnant. For my first child, I ran till the day before I gave birth. But I couldn't do that with my second child, as I discovered I had Placenta Previa, or a low lying placenta during my 5th month of pregnancy. This is a condition that just happens, there is no real reason why, but it occurs to 5% of pregnancies.
When this condition occurs, vigorous activities are discouraged as it can cause bleeding. I stopped running and instead I did brisk walks for a km or two everyday if I could. I had the same condition again with my third child, so I followed the same routine.
Below is a simple guide to Resistance Exercises :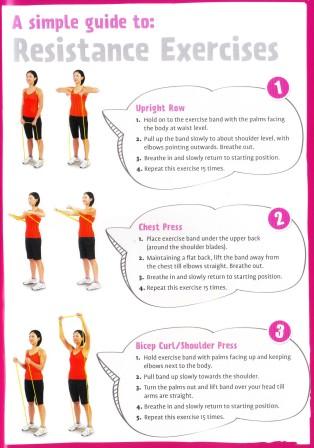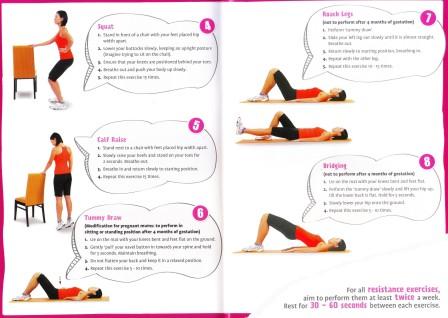 Take your Vitamins!
Start taking your Multi-vitamins including Folic Acid (shown to prevent Spinal Bifida) at least 6 months before you get pregnant. Also remember to eat your Omega fish oils which contains DHA. Babies' brain cells require the LCPuFAs in fish oils. All brain cells are sheathed in a layer of fat that enables the brain's signals to be sent efficiently. That in turn means that babies' whose brains receive sufficient LCPuFAs would be more intelligent.
Drink your Chicken Essence, so what if you have the world's most expensive urine (Excess water-soluble vitamins are excreted in your urine)! Now is your chance to eat as much Bird's Nest as you can afford. Please remember to take the recommended dosage, no need to overdose yourself.
How to pick a good Omega 3 DHA supplement
Always choose a reliable brand. When you are planning to get pregnant, you don't want to learn later that there was some contamination of your nutritional supplements. We have too much to worry about already.
Check the marine fish oil source of your EPA DHA Supplements. It can come from cod fish, salmon, anchovies, sardines or some other nameless fish. I just picked the best source when I was pregnant.
The concentration should be about 200 to 300mg of DHA and EPA specifically. Highly concentrated ones can have even higher than 300mg. Look carefully because X amount of fish oil is not equal to X amount of Omega 3 DHA and EPA.
Omega 3 Benefits
Some fatty acids can be made in the body, however factors such as age, diet and excess saturated fats can reduce the body's efficiency in converting them from food. Omega 3 fatty acids, DHA and EPA are 'good fats' that are essential for life.
They play an important role in helping to maintain brain and eye function. In your unborn baby, they are essential in brain and eye development. DHA supplements support aspects of brain and visual function including learning ability, concentration and coordination.
DHA Omega 3 and AA Omega 6 are important building blocks of the brain, nervous system and eye. In fact, DHA should be taken in pregnancy as it is the most abundant fatty acid in the brain.
EPA Omega 3 and AA Omega 6 fatty acids help in the transmission of messages between nerves. The myelin sheath that coats every nerve cell in the brain is made from LCPuFAs, Long chain Poly-unsaturated Fatty acids.
Evening Primrose Oil benefits
Evening Primrose oil contains the other essential fatty acid, Omega 6 fatty acids, GLA and AA.
GLA helps to relieve or alleviate symptoms of premenstrual syndrome. As stated above, AA plays a crucial role in brain development in babies and children. Most children who display learning disabilities actually have some deficiency in the development of their prefrontal lobe, which is also the seat of our self-control in our brain.
Best Prenatal Vitamins before Pregnancy
Blackmores Pre-conception Vitamins
I took these preconception vitamins before I got pregnant and switched over to Blackmores Pregnancy and Breast-feeding Gold prenatal vitamins after getting pregnant.
If you are trying to find the best prenatal vitamin when not pregnant yet, this is an all-in-one preconception vitamin. I only added calcium and iron tablets to supplement this prenatal vitamins before pregnancy. I always eat additional calcium and iron anyway as I have a low haemoglobin count (many women do) and your future baby needs plenty of calcium.
Omega 3 Supplements with Gamma Linolenic Acid (GLA)
Efalex Efamol with Omega 3 & 6 was one of the few DHA supplements that also had Omega 6 fatty acids, GLA and AA. It is on the pricy side but incudes Omega 3 benefits as well as Omega 6 evening primrose oil benefits.
This was what I took to supplement my prenatal vitamins before, during and after my pregnancies. A friend who recommended it said it really cleared up her premenstrual symptoms, one of the fantastic benefits of evening primrose oil.
Efalex Efamol actually recommends that you double the dose for the first 12 weeks as the higher initial daily intake helps optimize the body's store of important nutrients. A healthy varied diet is still important, of course.
GLA Supplements can be taken separately, but I found myself taking so many different nutritional supplements before getting pregnant, it made my head spin! I even dewormed myself, just in case.
If I could have found an Omega 3 6 9 supplement, I would have bought that, but I didn't happen across any.
If you haven't already done so, watch this Ted.com video by Science writer, Annie Murphy Paul on What we Learn before we are Born.
---
Stock up on all the essentials needed for your motherhood maternity needs and new baby at Mother & Baby Fairs which happen every month or so. You can also find lots of educational materials located all in one venue for convenience.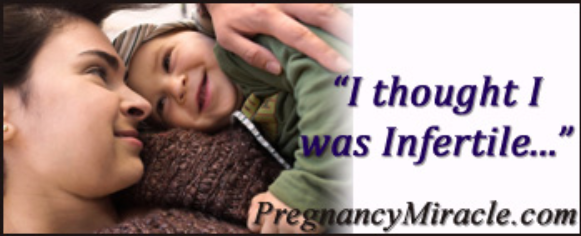 Return from Trying to Conceive to the Pregnancy Guide
Return from Trying to Conceive to Ovulation Calculator
Return from Trying to Conceive to Earliest Signs of Pregnancy
Pregnant already? Go to Pregnancy Tips
Return from Trying to Conceive to Premature Babies
Return from Trying to Conceive to Choosing your Baby's Name
Return from Trying to Conceive to MomsWisdom Sitemap
Return from Trying to Conceive to MomsWisdom.net Home page
Sep 25, 23 05:13 AM

What is the Best Way to Teach Kids How to Read?

Sep 25, 23 05:11 AM

This excellent article by the Swimming Director of Singapore Swimming Club explains the Benefits of Competitive Sports, in particular swimming.

Sep 25, 23 04:40 AM

The Breakfast Recipe of Apple & Cinnamon High Protein Muffins is a muscle-building, post-workout nutritious meal idea. Learn the pros & cons of Fat vs Wt loss.
MomsWisdom, a Complete guide for Pre pregnancy preparation, Pregnancy care and New mom guide for Childhood
Gives honest parenting advice to mothers on how with the right mindset and preparation, you can raise happy, healthy, well-adjusted children who outperform others academically.