About Us - Update Jan 2015
Hi everyone, we are not dead! Just ducking our heads and working hard. Here's an update of what my 3 kids & I have been up to!
I have been really busy with my kids' studies over the last 2 years. My elder daughter, Shen got into the GEP or Gifted Education Programme in Singapore. That would make her 1 of about 500 kids selected and the top 2% in her cohort.
The work in GEP is much more challenging than in the mainstream with many projects to do. Fortunately, parents have been banned from helping their kids (at least in Raffles Girls' Primary School). The girls are taught to be as independent as possible. I think there are too many kids nowadays who are like tofu anyway, a little bit of hardship and they complain so much.
My second daughter, Linn was 1st in her Pr 1 class in SCGS last year, so we were very happy about that too.
And my dear son, Sun, what's happened to the poor neglected kid? ;D He has been reading since he was 1 year plus, I have accelerated him a year ahead.
Myself? I have gotten into Internet Marketing, which I didn't even know existed at the end of 2013. I can't believe that this whole alternate universe existed without my knowledge.
Anyway, I invested in MOBE, an Internet Marketing training program that teaches everything there is to know about IM and how to make money online. You know those internet marketing gurus who are making those astronomical amounts? Well, they spent years trying to figure out the game.
With 3 kids to corral and manage everyday, I couldn't afford the time groping in the dark trying to learn everything on my own, so like the way I built this website, I found the easiest and best way there was and learnt it as fast as I could. So about 7 months after joining MOBE, I earned $23,338.55 over the last 2 months.
OK, unless you are a Stay-at-Home Mom, you don't know how I felt when I deposited the money in my account. I have worked before and depending on my hubby now for my income was very hard for me to swallow. I guess part of our identity is tied up in how productive monetarily we are.

I just felt such a sense of accomplishment and well-being from seeing all my labor bear fruit (Geez, kinda like with the kids too when they do something remarkable you didn't expect!).
So to all the mommies slogging it out there, Chin up! It's all worth it, for your kids and for yourself.

| | |
| --- | --- |
| Shen got a Distinction in her Public Speaking Grade 4 Lamda exam. | Linn collecting her prize for being first in her Pr 1 class. |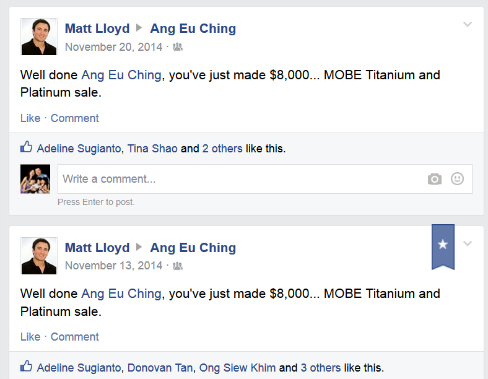 I just had to put this up coz' I am really happy with it! Matt Lloyd is the 28 year old founder of MOBE, My Online Business Education. He Facebook congratulated me for getting 2 Platinum sales which actually totalled $18,000 in commissions. ;D


Return to MomsWisdom Home page
Go to my original About Me page where it all began a long time ago, on a planet right here!

Jun 05, 23 05:14 AM

Signs of Labor lists the Pre-labor symptoms and the signals that your labor and delivery are imminent. Get ready for the time of your life!

Jun 05, 23 05:11 AM

Here are some tips on Raising a Happy Child by providing the necessary Love, Security, Discipline, Honesty and Play.

Jun 05, 23 05:10 AM

Premature Babies arrive before completing 37 weeks of pregnancy. This guide lists the causes and effects of preterm birth.
MomsWisdom, a Complete guide for Pre pregnancy preparation, Pregnancy care and New mom guide for Childhood
Gives honest parenting advice to mothers on how with the right mindset and preparation, you can raise happy, healthy, well-adjusted children who outperform others academically.