Childhood Obesity
Childhood Obesity is a great problem in our society now with plenty of unhealthy food to eat and a lack of exercise. Learn how to prevent obesity in your child.
Nobody wants their children to be labelled 'fat kids', but there is a danger of children becoming fat easily by indulging in fattening foods and sugary snacks and drinks. What's the first place that most kids recognize? You're right - MacDonalds! Isn't that scary?
If I gave my kids a choice, they would be happy to alternate between eating MacDonalds, Kentucky Fried Chicken and instant noodles (chock full of honest to goodness MSG). It is for us to institute some control and discipline on our children until they are able to decide sensibly for themselves.
Watch this Ted.com video by Mark Bittman on What's wrong with what we eat. He weighs in on what's wrong with the way we eat now (too much meat, too few plants; too much fast food, too little home cooking), and why it's putting the entire planet at risk.
Obesity is an interaction between genes and environment. A child is considered obese when his body weight is at least 20% more than the norm for height. You can refer to your child's hospital health booklet to assess if your child is of the right weight.
3 factors play a big role in whether your child will be obese : obesity in the parents, the child's responsiveness to sweet tastes and a heightened level of insulin when they see and smell food. This higher insulin level makes people eat more and speeds the conversion of food to fat.
Before you start panicking, fat babies are not necessarily fat children, but when obesity persists throughout the preschool period, a child is likely to carry excess weight into young adulthood.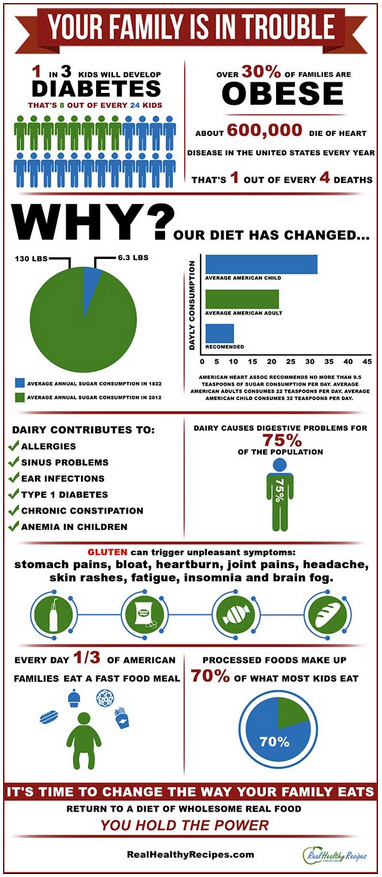 Obesity Prevention
Prevention is better than cure. It is much easier to prevent obesity developing, when a child is beginning to show an excess weight gain, than to treat it when the child is grossly over-weight.
A preoccupation with weight is also not a good thing. I have always advocated to moms that if you have a family history of lifestyle diseases (eg high cholesterol, heart disease, high blood pressure and diabetes), make an effort to exercise before you become pregnant and keep to it during your pregnancy if you can.
I did just that for my kids, even when I had placenta previa (low-lying placenta), I couldn't run like I did for my 1st pregnancy and half of my second, but I brisk walked for about a kilometre a day at least. My kids get plenty of exercise now despite their rigorous schedule. My elder daughter swims competitively and puts in about 6 hrs of swimming a week plus Tae Kwon Do.
It is even more important for girls to have sufficient exercise as they can build bone density better by exercising. They will require a strong body and bones to carry their future children and have healthy babies (Yes, I have thought that far ahead). Have you heard the saying, it takes 1 generation to ruin the health of their descendents, but it takes 3 generations to build up their health again.
My grandmother, way back before the 2nd world war, did not want to have so many children (read daughters), so she tried to abort them by eating all sorts of herbal concoctions. She unsuccessfully tried to abort my mother and auntie, but both were born and both have very bad health. My mother has the big 3 lifestyle diseases. She tried her best to eat well when she was pregnant with me and now I have also tried my best to exercise and eat well for my kids while I was pregnant. At 41 years old, I have already got high cholesterol. I hope that I have been able to head off the problem for my kids.
Follow the simple guide in Trying to Conceive and Pregnancy Tips to increase your chances of having lean, healthy children.

Weight losing Tips
If we eat more food than we burn, we get fat, so encourage your child to :
Eat less fattening food especially fats
Burn off calories with exercise
Avoid refined carbohydrates (eg cakes, sugar, soft drinks, sweets, biscuits, white bread)
Go for complex carbohydrates (eg grains and vegetables)
Go for natural foods, avoid junk food
Snack on high-fibre food
Eat slower (apparently many obese kids eat too fast)
Research has found that parents may inadvertently encourage their preschoolers to overeat. The child never develops any internal psychological controls over eating.
Another factor, television viewing is correlated to obesity. Children eat more while they watch TV. Their inactivity while watching TV also reduces their energy needs, so they gain weight.
If you're looking for quick, healthy, family friendly meals and recipes that accelerate fat loss, are wholesome and nutritious, and that your entire family will love, look no further.
Return from Childhood Obesity to Problems in Childhood
Return from Childhood Obesity to Trying to Conceive
Return from Childhood Obesity to Pregnancy Tips
Return from Childhood Obesity to Sports for Kids
Return from Childhood Obesity to Kids Play
Return from Childhood Obesity to MomsWisdom.net Home page

Sep 25, 23 05:13 AM

What is the Best Way to Teach Kids How to Read?

Sep 25, 23 05:11 AM

This excellent article by the Swimming Director of Singapore Swimming Club explains the Benefits of Competitive Sports, in particular swimming.

Sep 25, 23 04:40 AM

The Breakfast Recipe of Apple & Cinnamon High Protein Muffins is a muscle-building, post-workout nutritious meal idea. Learn the pros & cons of Fat vs Wt loss.
MomsWisdom, a Complete guide for Pre pregnancy preparation, Pregnancy care and New mom guide for Childhood
Gives honest parenting advice to mothers on how with the right mindset and preparation, you can raise happy, healthy, well-adjusted children who outperform others academically.