Anabolic Cooking Breakfast Recipe

Blueberry Oatmeal

Here's an Anabolic Cooking Breakfast Recipe gives great muscle-building post-workout nutrition as well as money saving tips.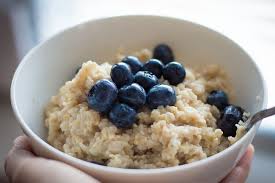 Dave Ruel's Anabolic Blueberry Oatmeal

Makes 1 Serving
Ingredients

- 3/4 cup oatmeal
- 8 Egg Whites
- 1/2 scoop (15g) of Chocolate Protein Powder
- 2 teaspoons of Pure Cocoa Powder
- 1 teaspoon of Splenda
- 1 tbsp of Flax Oil
- 1 cup of frozen Blueberries
- 1/4 cup of water

Directions

1. In a big bowl, mix All the ingredients (except for the frozen blueberries)
2. Cook in a microwave for about 3-4 minutes (cooking time vary from one microwave to the other) - stir the mix 2 minutes after cooking has started (so the mix doesn't stick or create chunks)
3. Once the mix is cooked, add the frozen blueberries, mix everything and enjoy :)

Nutritional Facts
(Per Serving)

Calories: 580
Protein: 52g
Carbohydrates: 57g

Fat: 16g
Dave Ruel's Cookbook features over 200 "Anabolicious" step-by-step, easy to make recipes, so you will never be bored with your diet again.You will become a chef in no time, and will keep your family and friends healthy along the way. Find more Anabolic Cooking Recipes for Muscle-Building Food here.
Here's a Ted.com video by Dean Ornish: The killer American diet that's sweeping the planet. Forget the latest disease in the news: Cardiovascular disease kills more people than everything else combined — and it's mostly preventable. Dr. Dean Ornish explains how changing our eating habits can save lives.
Fat Burning Recipes to Die for!
The Fastest Way To Lose Weight In 3 Weeks
Losing weight in a short space of time has always been thought of as a near impossible task. For years, doctors and dieticians have told the public that it takes months and sometimes even years of hard work to see any progress with weight loss, or to sculpt the perfect body. But that is simply not true at all.

The human body is highly adaptable and able to change in extremely short periods of time. Think about. If people can quickly gain mass amounts of fat from weeks of unhealthy eating, shouldn't they be able to lose a lot weight rapidly from weeks of healthy eating? Well, they definitely can.

But what do you need to eat to lose the weight rapidly? From low-carb, to low-fat, to sugar-free, to high protein, and even the 'caveman' diet – there are so many options out there that it can be extremely confusing to the average person on which diet you should use to quickly lose weight. Some of these diets even provide conflicting information on what you should and shouldn't eat. Well, that's all about to change.

For years, A-list celebrities and professional athletes have been following a secret diet not revealed to the public. This diet is so effective that people have been able to lose over 23 pounds of pure body fat in just 21 days from following it. That's more than 1 pound of body fat per day! Now, that diet has been made public by acclaimed nutritionist and personal trainer Brian Flatt.

Titled 'The 3 Week Diet', Brian's system reveals to people exactly how they can rapidly lose over 1 pound of body weight per day. The diet doesn't involve starving yourself or exercising like crazy, but instead follows a specific scientific method of including certain nutrient rich foods into your diet that, when combined, offer special fat-combating properties. You don't need to restrict yourself to certain types of foods like 'no carbs' or 'no sugar', but rather include 'the good stuff' as well to help burn the fat. This diet is extremely effective and based off years of scientific research and testing to ensure its safety and effectiveness.

Brian has revealed step-by-step how to follow this diet for 21 days to see these amazing results. He has laid out every food you need to include in your diet, and when you need to eat them. The diet is incredibly easy to follow, with very little work involved. If you are looking to lose weight fast, The 3 Week Diet is definitely something you should consider. No other diet out there today promises such fast results, and is able to deliver them too.

Visit the 3 Week Diet website for before and after photos of people who have followed the diet for 21 days. You too, can see similar results in as little as 2 days if you start right now!


Return to Feed Them Right & More Recipes
My Journey from US size 0 to 8 & Back


(I sacrificed my body to science just for you, my dear blog readers)
After my 3rd kid, I was a size 6-8 (depending on my dinner). I really tried everything:

Exercise - 10-12 km jogs everyday
Eating Less - Isn't losing weight just 'Eating less & Moving more'?
Duramine Diet pills - I lost my appetite, became an insomniac but was totally pepped up with energy. All would have been well except you can't take this long term coz' it's bad for your internal organs & I was cranky as hell! (What do you expect with 3 -4 hours of sleep every night, I was getting delusional...)
Tummy patches from Korea - You can't use this everyday coz' in the Singapore heat, it gets itchy. The verdict is still out on this, I think I just got an extremely itchy & sweaty stomach, with a slight loss in belly fat.
Marie France Bodyline Slimming Treatments - I tried a cocktail of all their treatments (1 each at a promotional price). I did lose quite a bit of my weight gain from my pregnancies and most of my stomach fat (my problem area), but the pounds rushed right back after I stopped the program (Who can spend thousands of $$$ to maintain my post-treatment weight? Darn, aren't I supposed to be able to keep the weight off on a semi-permanent basis?).
Body wraps & 'Lipolysis' - OK, be careful of this. You can suffer so much water loss through sweat and dehydration that you actually feel dizzy & unwell. The inch loss and weight loss is imaginary as you will definitely need to drink water & Boom! It's baaaaccccck...
Indonesian Jamu massages - This was my first treatment & the massage was quite painful (1 hour's worth of 'No pain, no gain') & there appeared to be bruises on my tummy. The massage was supposed to 'soften' the hard crystallized fat in your belly!
Zaggora Hotpants - I loved these hotpants for running, you sweat like a pig under the wetsuit material of the hotpants and feel like you have accomplished a whole lot. I did get my amazing trim thighs!
3 Week Diet - I am working on getting my tummy as flat as possible and maybe getting that line down the middle of your stomach if you are really in great shape for a woman. I am on a reasonable high protein-low carb diet plan (No Atkins diet for me!). By reasonable, I mean I eat like a normal person, no starvation required. In fact, I try to eat small meals 4 hourly, supplemented with Fish oil, Whey protein, CLA, Leucine, Greens+ Superfoods, Fat burners and plenty of water to clear the toxins from my body. (Work in progress - I will report back to you of the results)

My After weight loss picture was taken at the beginning of this year and I am 45 years old (2015). I am a US size 2-4 now. I don't think I will ever be a size 0 again in this lifetime & be able to slip on a dress without even unzipping it (like in the good ole days... never mind, there is always my next life.)
In case you think I have skinny Chinese genes, nope, my grandfather had pants 3 normal-sized guys could get into. My mother used to horrify me with stories of how my aunt's 20 inch waist before marriage became 20 inch thighs after her 4 kids. I was determined not to walk down that scary path of permanently being called 'Auntie' by all and sundry.

Oct 23, 23 03:53 AM

Kids Play in Singapore lists activities for learning and educational fun out and about. There are lots of things to do with kids in Singapore for a TV and iPad-free day.

Oct 23, 23 03:39 AM

Healthy meals - Ginger Beef. Here's a healthy recipe to lose weight. Learn what nutrients the body needs and what it doesn't.

Oct 23, 23 03:36 AM

Learning to read at a young age helps a child develop a better understanding of their surroundings. Here are 3 Simple Tips a busy Mom can do to teach your child how to read.
MomsWisdom, a Complete guide for Pre pregnancy preparation, Pregnancy care and New mom guide for Childhood
Gives honest parenting advice to mothers on how with the right mindset and preparation, you can raise happy, healthy, well-adjusted children who outperform others academically.