Healthy Foods
Hot Paprika Shrimp
Healthy Foods like Hot Paprika Shrimp can form part of a weight loss diet with Metabolic Cooking. Surprise! You can lose weight even with healthy dinner recipes.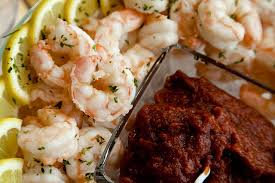 Makes 2 Servings
Ingredients
• 8oz shrimps, shelled and deveined
• 1 tablespoon macadamia oil
• ½ teaspoon paprika
• Pinch cayenne pepper
• 2 cloves garlic, crushed

Directions
1. In a skillet over medium-high heat. Sauté the shrimp and garlic.
in the oil for about 5 minutes until it's pink.
2. Sprinkle the paprika and cayenne over it.
3. Cook for about another minute and serve.

Nutritional Facts
(Per Serving)
Calories: 159
Protein: 23g
Carbohydrates: 1g
Fat: 7g
Here are some metabolism-boosting tips from Metabolic Cooking authors Dave Ruel & Karine Losier.
There are NINE fat incinerating salad dressing ingredients:
All Natural Dijon Mustard can actually have a profound effect on metabolism, even at rest, as well as improving overall digestion and nutrient utiliization.
Apple Cider Vinegar aids in weightloss by detoxifying the liver, increasing metabolism, and supressing hunger levels!
White and Red Wine Vinegar have been shown to improve blood sugar levels, reduce insulin, and slow digestion.
And if that wasn't enough, other herbs and spices such as ginger, garlic, lemon, cayenne, basil, parsley, and thyme have all been shown to have significant metabolism-boosting properties as they stimulate your taste buds to boot!
Fact is, when you learn how to cook with the right ingredients, you can really begin to enjoy both the fat-burning properties and the ultimate flavor of the foods you use to slim your waist. Find more Metabolic Cooking Recipes for Fat Burning Food here.
Ted.com video alert : William Li: Can we eat to starve cancer?
William Li presents a new way to think about treating cancer and other diseases: anti-angiogenesis, preventing the growth of blood vessels that feed a tumor. The crucial first (and best) step: Eating cancer-fighting foods that cut off the supply lines and beat cancer at its own game.
Fat Burning Recipes to Die for!
Is your food making you FAT or burn MORE fat?


By Karine Losier & Dave Ruel
1. Why most "healthy" cookbooks use ingredients that actually make you fat.
2. How to ensure your meals are optimized for fat loss!
3. What to do so your meal plan doesn't hit a fat loss plateau.
If you've tried fat loss diets before and have used a variety of weight loss cookbooks to try to lose body fat, then you very likely know by now that those fat loss diets and the "healthy" cookbooks that go with them don't work.
What is it about them that makes successful weight loss so difficult to achieve?
Well for starters, most "healthy" cookbooks are NOT designed with high Metabolic Thermo Charge ingredients. They are not using the metabolic powers that certain foods have to make your body burn more body fat. Instead, they use ingredients with very low thermogenic effect.
Why does this matter? Because the Metabolic Thermo Charge of food stands for how many calories your body will burn just by breaking down the nutrients each time you consume a certain food.
Most people have absolutely no idea of the power some of these foods have over the fat burning processes that go on inside the body, and so they never really think twice about them. BIG MISTAKE.
For example, simply consuming high-quality protein with most meals will naturally burn off more calories and move you closer to your target weight. Lean protein has a very high "Metabolic Thermo Charge". Spices also have a strong thermogenic effect on your body. Combining certain foods together, such as chicken and turmeric, with help you burn more fat after you eat it.
Interesting, right?

But that's not all. Another thing to consider is whether or not your so-called "healthy" cookbook has a real structure. Too often, cookbooks are just a bunch of recipes thrown together at random – you pick and choose what you feel like eating at that point in the day. That is NOT going to make you burn fat faster!
Having a structure is mandatory if you want to rid yourself of stubborn fat. That's why we developed a quick and easy "Metabolic Nutri-Profile" system for all our recipes, so you can see precisely what nutrients you're taking in, which ensures that each meal makes the most of your metabolic rate.
Don't make the mistake of venturing into the food jungle without your compass!
So we've talked about the food and the structure of your eating plan. Sounds like we've got it covered, right? NO!
Ever followed a diet to a "T" and all of a sudden noticed that you stopped losing fat?
This is called the Metabolic Adaptation Phenomenon. It occurs at that point in your diet when your body knows precisely what it's getting in terms of food and has fully adapted to it. When it reaches this state, your metabolism slows down and fat loss screeches to a halt.
In order to avoid the Metabolic Adaptation Phenomenon, you have to vary your nutrient intake regularly, shocking your body as time goes on. This keeps it guessing and ensures your metabolism stays on high at all times. Having a wide range of fat loss recipes at your fingertips makes avoiding this frustrating condition a breeze!
Now you know the REAL score when it comes to fat loss and dieting! Be sure to watch out for these three sneaky saboteurs next time you make the decision to lose fat!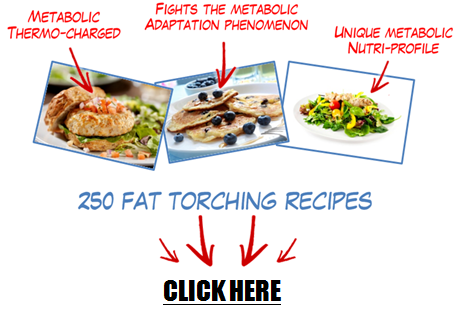 In Metabolic Cooking, you are provided with a huge collection of awesome fat torching recipes that will:
1. Help you burn fat faster with the help of specific Metabolic Thermo Charged ingredients
2. Efficiently structure your meal plan with their simple and effective "Metabolic Nutri-Profile"
3. Fight the Metabolic Adaptation Phenomenon.
If you struggle with food or nutrition, check out 'Metabolic Cooking'.

Return to Feed Them Right & More Recipes
My Journey from US size 0 to 8 & Back


(I sacrificed my body to science just for you, my dear blog readers)
After my 3rd kid, I was a size 6-8 (depending on my dinner). I really tried everything:

Exercise - 10-12 km jogs everyday
Eating Less - Isn't losing weight just 'Eating less & Moving more'?
Duramine Diet pills - I lost my appetite, became an insomniac but was totally pepped up with energy. All would have been well except you can't take this long term coz' it's bad for your internal organs & I was cranky as hell! (What do you expect with 3 -4 hours of sleep every night, I was getting delusional...)
My After weight loss picture was taken at the beginning of this year and I am 45 years old (2015). I am a US size 2-4 now. I don't think I will ever be a size 0 again in this lifetime & be able to slip on a dress without even unzipping it (like in the good ole days... never mind, there is always my next life.)
In case you think I have skinny Chinese genes, nope, my grandfather had pants 3 normal-sized guys could get into. My mother used to horrify me with stories of how my aunt's 20 inch waist before marriage became 20 inch thighs after her 4 kids. I was determined not to walk down that scary path of permanently being called 'Auntie' by all and sundry.

Sep 25, 23 05:13 AM

What is the Best Way to Teach Kids How to Read?

Sep 25, 23 05:11 AM

This excellent article by the Swimming Director of Singapore Swimming Club explains the Benefits of Competitive Sports, in particular swimming.

Sep 25, 23 04:40 AM

The Breakfast Recipe of Apple & Cinnamon High Protein Muffins is a muscle-building, post-workout nutritious meal idea. Learn the pros & cons of Fat vs Wt loss.
MomsWisdom, a Complete guide for Pre pregnancy preparation, Pregnancy care and New mom guide for Childhood
Gives honest parenting advice to mothers on how with the right mindset and preparation, you can raise happy, healthy, well-adjusted children who outperform others academically.