Weight Loss Recipe
World Famous (Paleo) Fudgy Brownies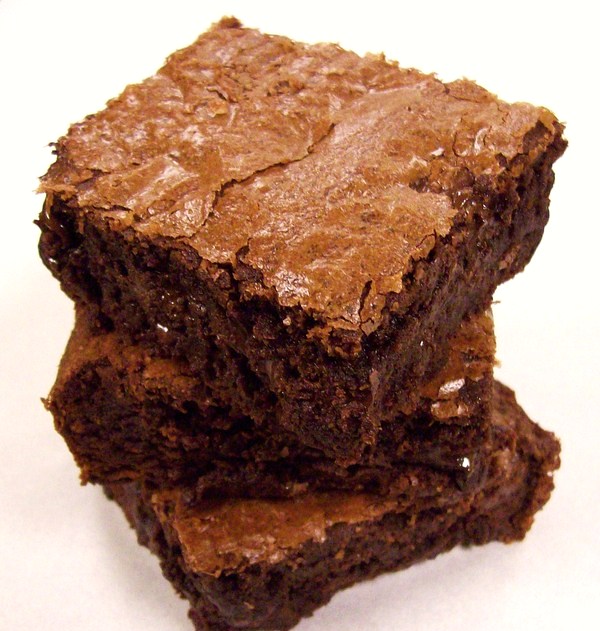 Here's a great Weight Loss dessert recipe to lose weight while pigging out! Healthy recipes and healthy eating don't necessarily have to always part ways with tasty yummy food...
And if you like chocolate - you'll love these.

== Here's the recipe for you ==

Here's what you need:

• ½ cup coconut oil
• 4 ounces dark chocolate, chopped
• 2/3 cup raw honey
• 2 eggs
• 1 teaspoon vanilla extract
• 2/3 cup blanched almond flour
• ¼ teaspoon baking soda
• ½ cup chopped walnuts

1. In a medium saucepan melt coconut oil, chocolate and honey over low heat, stirring constantly. Remove from heat; cool.

2. Meanwhile, grease an 8x8x2-inch or 9x9x2-inch baking pan; set aside. Stir the eggs, 1 at a time, into the chocolate mixture. Stir in the vanilla.

3. In a small bowl stir together the almond flour and baking soda. Add almond flour mixture to chocolate mixture; stir just until combined. Stir in walnuts. Spread into prepared pan.

4. Bake in a 350 degree oven for 30 minutes for 8-inch pan or 25 minutes for 9-inch pan. Cool on a wire rack. Chill for 20 minutes in the fridge before cutting into bars.

Click here for more Family Friendly Fat Burning Meals.
Ted.com Video Alert : Paula Johnson: His and hers … healthcare
Every cell in the human body has a sex, which means that men and women are different right down to the cellular level. Yet too often, research and medicine ignore this insight — and the often startlingly different ways in which the two sexes respond to disease or treatment. As pioneering doctor Paula Johnson describes in this thought-provoking talk, lumping everyone in together means we essentially leave women's health to chance. It's time to rethink.
Fat Burning Recipes to Die for!
Why you need 3 weeks to lose weight & keep it off?

Research has shown that most overweight people are carrying around 10-20 pounds of unwanted body fat. Research has also shown that most diets fail. From my experience, most diets fail because they take the long, slow, boring approach to weight loss. When weight loss comes off at 1-2 pounds a week, the rewards for the sacrifices it takes to get there really aren't worth it.
The 3 Week Diet accomplishes in 3 weeks what most diets take 4-5 months to do.
The 3 Week Diet was specifically designed to be an extremely rapid method for burning between10-20 pounds of body fat.
I understand that for a diet to be ultra-successful, it absolutely must produce very rapid results.
When results come quickly, the dieter receives the necessary feedback that the diet is working and that it's worth doing.
This results in the dieter sticking with the diet. When the dieter sticks with the diet, the results snowball and the outcome is successful weight loss and a brand new body.
This is why the 3-Week Diet works! You will soon see that you will notice favorable body composition changes in the very first couple of days on the diet. In the very first week alone, you will likely see in the neighborhood of 10 pounds of fat stripped away from your body. Your clothes will be loser...you'll feel lighter...and you'll look and feel 10x better than you did just a week before.
21 DAYS TO MAKE A HABIT
Research has shown that it takes approximately 21-days for us to develop a new habit.
This means 21 days of eating healthy... 21 days of going to the gym... 21 days of doing what ever it is that you want to implement as a habit into your life.
Far too often, when we try to implement a new habit into our lives, we look at it in unmanageable light. Because of this, these new healthy habits never get off the ground because instead of focusing on just 21—days, we sabotage our goals with the mindset that we will have to sacrifice forever.
So, Instead of starting out with thoughts of making a new habit for life, make you can make it a lot easier simply by telling yourself that you are just going to "try" this diet for just 21-days. We can all do 21-days, right? Let your brain "know" that once this "trial period" is over, you can go back to your old eating habits.
Then, while your brain lets you participate in this "trial," it will also be working to form new neural pathways once it realizes that the new habit has benefited you positively in some way.
This is the science behind how we develop habits and research has shown that it takes approximately 21 days to develop new habits or to break old ones.
In the case of the 3-Week Diet, your brain will have noticed that it now takes less work to move your body throughout the day because it has shed so many pounds. It will notice the increased energy you have as a result of your daily walks, weekly resistance training and other exercise components of this diet.
Your body will also take note of your physical appearance, your muscle tone and how your clothes now fit much looser. Basically, your brain will see remarkable benefits that will stick with you and cause you to follow along the path of good eating and exercise habits.
Now, understand that research has shown neural pathways to any habit (even those bad ones) can be life-long, which means bad habits can resurface when triggered to do so.
This means that you constantly have to be aware of your thoughts and you need to make conscious efforts to avoid engaging in those bad habits of the past. Believe me, after 21 days, it's relatively simple to convince yourself to avoid those bad habits of the past.
While you will be able to indulge in your favorite foods, they will not be able to take over your life. My intention of the 3 Week Diet is not only to burn fat away fast but to also force new, good habits of eating and regular exercise that will stay with you forever.
This will ensure that you get the body you've always wanted and keep it for life.
Return to Feed Them Right & More Recipes

My Journey from US size 0 to 8 & Back


(I sacrificed my body to science just for you, my dear blog readers)
After my 3rd kid, I was a size 6-8 (depending on my dinner). I really tried everything:

Exercise - 10-12 km jogs everyday
Eating Less - Isn't losing weight just 'Eating less & Moving more'?
Duramine Diet pills - I lost my appetite, became an insomniac but was totally pepped up with energy. All would have been well except you can't take this long term coz' it's bad for your internal organs & I was cranky as hell! (What do you expect with 3 -4 hours of sleep every night, I was getting delusional...)
My After weight loss picture was taken at the beginning of this year and I am 45 years old (2015). I am a US size 2-4 now. I don't think I will ever be a size 0 again in this lifetime & be able to slip on a dress without even unzipping it (like in the good ole days... never mind, there is always my next life.)
In case you think I have skinny Chinese genes, nope, my grandfather had pants 3 normal-sized guys could get into. My mother used to horrify me with stories of how my aunt's 20 inch waist before marriage became 20 inch thighs after her 4 kids. I was determined not to walk down that scary path of permanently being called 'Auntie' by all and sundry.

Sep 25, 23 05:13 AM

What is the Best Way to Teach Kids How to Read?

Sep 25, 23 05:11 AM

This excellent article by the Swimming Director of Singapore Swimming Club explains the Benefits of Competitive Sports, in particular swimming.

Sep 25, 23 04:40 AM

The Breakfast Recipe of Apple & Cinnamon High Protein Muffins is a muscle-building, post-workout nutritious meal idea. Learn the pros & cons of Fat vs Wt loss.
MomsWisdom, a Complete guide for Pre pregnancy preparation, Pregnancy care and New mom guide for Childhood
Gives honest parenting advice to mothers on how with the right mindset and preparation, you can raise happy, healthy, well-adjusted children who outperform others academically.