Fat Loss Diet
Cajun Style Sweet Potatoes
A Fat Loss Diet can include healthy foods that are actually appetizing! Here's to healthy eating and meal ideas that help you lose weight while tasting great.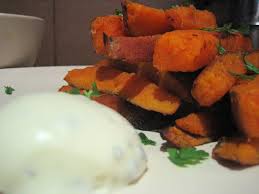 Makes 2 Servings
Ingredients
• 2 medium (5oz) sweet potatoes
• 1 teaspoon paprika
• ¼ teaspoon onion powder
• ¼ teaspoon thyme
• ¼ teaspoon rosemary
• ¼ teaspoon garlic powder
• Pinch of cayenne pepper
• 1 teaspoon olive oil

Directions
1. Preheat oven to 375oF. In a small bowl, stir together paprika, onion powder, thyme, rosemary, garlic powder, and cayenne pepper.
2. Slice the sweet potatoes in half lengthwise.
3. Brush each half with olive oil.
4. Rub the seasoning mix over the cut surface of each half.
5. Place sweet potatoes on a baking sheet or in a shallow pan.
6. Bake until tender or about 45 minutes.

Nutritional Facts
(Per Serving)
Calories: 124
Protein: 2g
Carbohydrates: 27g
Fat: 2g
Simply stated, it's a unique way of preparing food that combines nutrients specifically geared for melting off body fat FASTER than normal.
Here's what I really love about Metabolic Cooking:
1. The recipes are made from foods with a high Metabolic Thermo-Charge; more calories burned faster without losing taste...
2. They structured the cookbooks around their incredibly helpful "Metabolic Nutri-Profile"... makes it SUPER easy to use...
3. It's been specifically designed to fight the Metabolic Adaptation Phenomenon: That is what happens when you are on a dietplan and you all of a sudden stop dropping bodyfat!
Taste, ease, and metabolism-boosting power.
If you have been looking for Yummy recipes to melt body fat, you can find more Metabolic Cooking Recipes for Fat Burning Food here.
Ted.com video Alert: Tristram Stuart - The global food waste scandal
Western countries throw out nearly half of their food, not because it's inedible — but because it doesn't look appealing. Tristram Stuart delves into the shocking data of wasted food, calling for a more responsible use of global resources.
Fat Burning Recipes to Die for!
META BOLISM
The primary function of our metabolism is simply to provide the right amount of fuel (at the right time) to keep our bodies alive and functioning properly. It accomplishes this through a complex series of chemical reactions whereby food is converted to the energy we need.
When we eat, the food we swallow enters our digestive tract and is broken down by digestive enzymes. Carbohydrates are converted to glucose, fats to fatty acids and protein to amino acids. Once these nutrients are broken down, they are absorbed by the bloodstream and carried into the cells of the body.
Our metabolism then works to either release these nutrients as energy, use them to build and repair lean tissue or store them for later use.
There are two basic metabolic processes—one is constructive and is responsible for building and storing energy for the body.
The other is destructive, though in a positive sense, as it breaks down nutrient molecules to release energy.
The constructive metabolic process is called anabolism, while the destructive process is called catabolism.
Anabolism: promotes the growth of new cells, the maintenance and repair of tissues, and the storage of energy—usually through body fat—for future use. Small nutrient molecules are converted into larger molecules of protein, carbohydrates and fat.
Catabolism: is responsible for immediately providing the body energy to use. Instead of building up, it breaks down the nutrient molecules to release energy.
These two processes do not occur simultaneously but are balanced by the body based on several factors.
Catabolism, in particular—though some attribute this to overall metabolism—has three components:
1. Basal metabolism: sometimes called resting metabolism, this is the metabolism component responsible for keeping you alive by ensuring normal body functions. Even if you were bedridden the whole day, basal metabolism is still at work. Basal metabolism is metabolism's main component, as 60 to 70 percent of the calories from the food you eat are used for this. People who want to lose weight usually aim for a higher basal metabolic rate (BMR).
2. Physical movement: this can range from a simple moving of your fingers to strenuous exercise. Usually 25 percent of the calories you consume are for this purpose.
3. Thermic effect of food: this indicates the digestion and processing of the food you take in. Depending on the type of nutrient you consume, approximately 10% of the calories of the food you eat are burned through this. As you will see, the digestion of certain foods will require much more calorie expenditure than others. Protein takes a lot of calories to digest while carbohydrates take far less.
Thus, taking all this into account, here is our metabolism formula:
Calories From Food = Calories Expended From Basal Metabolism (60-70%) + Calories Expended By Physical Movement (25%) + Calories Expended Digesting Food (10%)
What Affects Metabolism?
Your metabolic rate, or how fast or slow your metabolism works, is influenced by a number of factors:
Genetics: yes, metabolic rate is also inherited. Sometimes this makes an entire world of difference between a person who can eat almost everything and not gain an ounce and a person who easily balloons after indulging just once.

Age: the younger you are, the faster your metabolism is. Metabolism slows down as you age. Women's metabolic rate starts falling at the age of 30; for men, decline starts later at the age of 40.

Gender: men have a faster metabolic rate—usually 10-15 percent faster—than women because their bodies have a larger muscle mass. Muscle plays a key role in a fast metabolism, as will be discussed in exercise portion of the 3 Week Diet.

Amount of lean body mass: as already mentioned, more muscle = faster metabolism.

Diet: some foods will help you-some will only harm you. While timing is not everything, meal frequency greatly affects your metabolism.

Stress level: stress is inversely proportional to metabolism. The more stress you are subjected to, the lower your metabolism will be.

Hormones: specific hormones metabolize specific nutrients. How well the hormones work, then, directly affects metabolism. To a certain extent, diet and stress levels affect the hormones involved in metabolism, as you will find out later. Hormonal disorders or imbalances can affect metabolism as well.
Looking at all these factors that influence metabolism, you now probably have a general idea of what you need to do to increase your metabolism—accept the things you cannot change, and work on those that you can!
A "fast" metabolism is the true secret to maintaining a lean body.

Return to Feed Them Right & More Recipes
My Journey from US size 0 to 8 & Back


(I sacrificed my body to science just for you, my dear blog readers)
After my 3rd kid, I was a size 6-8 (depending on my dinner). I really tried everything:

Exercise - 10-12 km jogs everyday
Eating Less - Isn't losing weight just 'Eating less & Moving more'?
Duramine Diet pills - I lost my appetite, became an insomniac but was totally pepped up with energy. All would have been well except you can't take this long term coz' it's bad for your internal organs & I was cranky as hell! (What do you expect with 3 -4 hours of sleep every night, I was getting delusional...)
Tummy patches from Korea - You can't use this everyday coz' in the Singapore heat, it gets itchy. The verdict is still out on this, I think I just got an extremely itchy & sweaty stomach, with a slight loss in belly fat.
Marie France Bodyline Slimming Treatments - I tried a cocktail of all their treatments (1 each at a promotional price). I did lose quite a bit of my weight gain from my pregnancies and most of my stomach fat (my problem area), but the pounds rushed right back after I stopped the program (Who can spend thousands of $$$ to maintain my post-treatment weight? Darn, aren't I supposed to be able to keep the weight off on a semi-permanent basis?).
Body wraps & 'Lipolysis' - OK, be careful of this. You can suffer so much water loss through sweat and dehydration that you actually feel dizzy & unwell. The inch loss and weight loss is imaginary as you will definitely need to drink water & Boom! It's baaaaccccck...
Indonesian Jamu massages - This was my first treatment & the massage was quite painful (1 hour's worth of 'No pain, no gain') & there appeared to be bruises on my tummy. The massage was supposed to 'soften' the hard crystallized fat in your belly!
Zaggora Hotpants - I loved these hotpants for running, you sweat like a pig under the wetsuit material of the hotpants and feel like you have accomplished a whole lot. I did get my amazing trim thighs!
3 Week Diet - I am working on getting my tummy as flat as possible and maybe getting that line down the middle of your stomach if you are really in great shape for a woman. I am on a reasonable high protein-low carb diet plan (No Atkins diet for me!). By reasonable, I mean I eat like a normal person, no starvation required. In fact, I try to eat small meals 4 hourly, supplemented with Fish oil, Whey protein, CLA, Leucine, Greens+ Superfoods, Fat burners and plenty of water to clear the toxins from my body. (Work in progress - I will report back to you of the results)

My After weight loss picture was taken at the beginning of this year and I am 45 years old (2015). I am a US size 2-4 now. I don't think I will ever be a size 0 again in this lifetime & be able to slip on a dress without even unzipping it (like in the good ole days... never mind, there is always my next life.)
In case you think I have skinny Chinese genes, nope, my grandfather had pants 3 normal-sized guys could get into. My mother used to horrify me with stories of how my aunt's 20 inch waist before marriage became 20 inch thighs after her 4 kids. I was determined not to walk down that scary path of permanently being called 'Auntie' by all and sundry.

Oct 23, 23 03:53 AM

Kids Play in Singapore lists activities for learning and educational fun out and about. There are lots of things to do with kids in Singapore for a TV and iPad-free day.

Oct 23, 23 03:39 AM

Healthy meals - Ginger Beef. Here's a healthy recipe to lose weight. Learn what nutrients the body needs and what it doesn't.

Oct 23, 23 03:36 AM

Learning to read at a young age helps a child develop a better understanding of their surroundings. Here are 3 Simple Tips a busy Mom can do to teach your child how to read.
MomsWisdom, a Complete guide for Pre pregnancy preparation, Pregnancy care and New mom guide for Childhood
Gives honest parenting advice to mothers on how with the right mindset and preparation, you can raise happy, healthy, well-adjusted children who outperform others academically.