How to Lose Weight after Pregnancy
Lose weight after pregnancy and exercise with baby, what could be more fun than letting your baby join in?
Many mothers experience problems with losing weight after pregnancy. Bet you didn't know that you can do a few gentle exercises just days after giving birth. Even while lying in bed or sitting in a chair, try to get into the habit of doing something to tone your muscles.
Post Pregnancy Weight Loss
Fasting for weight loss or visiting weight loss clinics is not an option if you are breastfeeding. Perhaps you might decide to visit a quick weight loss center. Try to lose baby weight the healthy way with exercise after pregnancy.
If you want to exercise after c section, wait for 4 to 6 weeks before starting to exercise and check with your doctor first. If you have had a tear or an episiotomy, don't practise stretching exercises until it has healed.
Fat Burning Recipes to Die for!
My Journey from US size 0 to 8 & Back


(I sacrificed my body to science just for you, my dear blog readers)
After my 3rd kid, I was a size 6-8 (depending on my dinner). I really tried everything:

Exercise - 10-12 km jogs everyday
Eating Less - Isn't losing weight just 'Eating less & Moving more'?
Duramine Diet pills - I lost my appetite, became an insomniac but was totally pepped up with energy. All would have been well except you can't take this long term coz' it's bad for your internal organs & I was cranky as hell! (What do you expect with 3 -4 hours of sleep every night, I was getting delusional...)
My After weight loss picture was taken at the beginning of this year and I am 45 years old (2015). I am a US size 2-4 now. I don't think I will ever be a size 0 again in this lifetime & be able to slip on a dress without even unzipping it (like in the good ole days... never mind, there is always my next life.)
In case you think I have skinny Chinese genes, nope, my grandfather had pants 3 normal-sized guys could get into. My mother used to horrify me with stories of how my aunt's 20 inch waist before marriage became 20 inch thighs after her 4 kids. I was determined not to walk down that scary path of permanently being called 'Auntie' by all and sundry.

Pelvic Floor Exercises for women
Do pelvic floor exercise to keep the pelvic floor muscles toned. Pull in and tense the muscles around your vagina and anus, as if you were stopping the flow of urine. Hold as long as you can without straining. Relax. Repeat 25 times or more each day.
Restart this exercise as soon as you can after delivery to minimize the risk of pelvic floor prolapse. Early exercise will tone up the vagina for sexual intercourse too. Try to make the exercise part of your daily routine.
Pelvic Floor Exercises should also be done during pregnancy. You can do it anytime, I used to suffer really bad insomnia while I was pregnant, so I did pelvic floor muscle exercises hundreds of times a night!
Pelvic Floor Dysfunction
The pelvic floor muscles form a funnel that supports the uterus, bowel and bladder, and close the entrances to the vagina, rectum and urethra. During pregnancy, an increase in pregesterone, causes the muscles to soften and relax, and pressure from the enlarging uterus can cause the pelvic floor to become stretched and weak. Up to 50% of women who have had babies develop weakness in the pelvic floor. As a result, they may experience discomfort or stress incontinence - slight leakage of urine when laughing, coughing or sneezing.
How to reduce loose skin after pregnancy
Tone up your stomach muscles by pulling them in as you breathe out, then holding for a few seconds. Relax, and then repeat as often as possible. Moisturize, moisturize, moisturize. I slathered on so much moisturizer while I was pregnant. I swear by the Clarins Body Treatment Oil which was recommended by a friend who was an obstetrician.
How to reduce swollen ankles and legs
You can reduce swollen ankles and feet simply by moving your feet up and down as though you were pedaling. You may experience ankle swelling after childbirth, but in my experience, it goes away in a week or two. Swollen feet and ankles (or oedema) are caused by water retention and standing can cause fluid to pool in the ankles.
Simply put your feet up and avoid salty food. You can also sleep with your swollen ankles and feet elevated by placing pillows at the foot of your bed.
Ted.com Video Alert : How to make healthy eating unbelievably easy | Luke Durward | TEDxYorkU
After breaking his leg, undergraduate student Luke Durward used his time to return home and mentor his little brother on healthy eating. While illustrating his brother's dramatic transformation, Durward shares the obvious secret that is repeatedly overlooked by unsuccessful dieters.0

Postnatal Exercises Weight Loss plan
Establish a daily exercise routine a few weeks after giving birth. With the new demands of being a mother, this may not seem like a top priority. However, exercising will tone muscles that were stretched during pregnancy and delivery, and increase your energy supply.It's also good for morale.
You can do short stints of exercise twice or several times a day rather than one long period. If you had a rigorous exercise regime before or during pregnancy, get back into it. I got back to running and lost most of my excess weight in a few months, though I am not at my pre pregnancy weight. I think those days of squeezing into a size 0 are over!
Side bends - Stand with your feet about 1 metre apart. With your left hand on your thigh, slowly bend over to the left. Breathe deeply and hold your breath for a short while. Straighten up as you breathe out. Repeat the exercise, bending to the right.
Pelvic tuck-in - Kneel down on all fours with your knees about 30cm apart, then tighten your buttock muscles, tucking in your pelvis and arching your back upwards into a hump. Hold for a few seconds, then release. Don't let your back sink downward. Repeat several times.
Cat arching - Kneel on all fours with your back straight. Breathing in, bend a leg up and lower your forehead towards your knee. Hold for a second. Breathing out, stretch, raising the leg behind you and lifting up your head. Hold for a few seconds, then change leg.
Abdominal toner - Lie on your back on the floor with your knees bent (feet touching the floor) and your arms by your sides. Breathe deeply. As you breathe out, raise your head and arms, palm upward. Hold for a couple of seconds, then relax. Repeat 10 times. You will be able to lift your head higher with regular practise.
Forward bend - Place your feet 30cm apart, keeping them parallel, and loosely clasp your hands behind your back. Keeping your back straight, bend slowly forward from your hips. Then raise your hands until they are as far above your head as you can possibly reach. Breathe deeply for a few breaths, then rise slowly and repeat.
Put baby in front of you and both of you can have fun while you exercise.
Resistance Exercise with Baby
Have fun while losing weight after pregnancy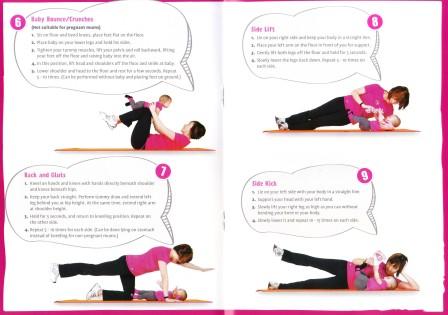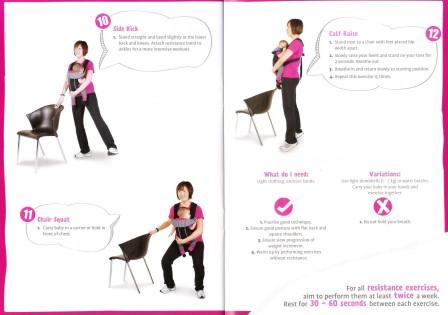 This is provided courtesy of KK Women's & Children's Hospital and Singapore Sports Council.

Stock up on all the essentials needed for your motherhood maternity needs and new baby at Mother & Baby Fairs which happen every month or so. You can also find lots of educational materials located all in one venue for convenience.
There is always a Book Fair going on somewhere in Singapore. Get books at steep discounts and there are sometimes even activities available to entertain the kids at the big fairs.
---
Return from Lose Weight after Pregnancy to Pregnancy Guide
Return from Lose Weight after Pregnancy to Post Pregnancy Care for Mothers
Return from Lose Weight after Pregnancy to Baby Care Tips
Return from Lose Weight after Pregnancy to Good Parenting
Return from Lose Weight after Pregnancy to MomsWisdom Sitemap
Return from Lose Weight after Pregnancy to MomsWisdom.net Home page
Sep 25, 23 05:13 AM

What is the Best Way to Teach Kids How to Read?

Sep 25, 23 05:11 AM

This excellent article by the Swimming Director of Singapore Swimming Club explains the Benefits of Competitive Sports, in particular swimming.

Sep 25, 23 04:40 AM

The Breakfast Recipe of Apple & Cinnamon High Protein Muffins is a muscle-building, post-workout nutritious meal idea. Learn the pros & cons of Fat vs Wt loss.
MomsWisdom, a Complete guide for Pre pregnancy preparation, Pregnancy care and New mom guide for Childhood
Gives honest parenting advice to mothers on how with the right mindset and preparation, you can raise happy, healthy, well-adjusted children who outperform others academically.